The Benefits of Natural riches tea tree oil body wash !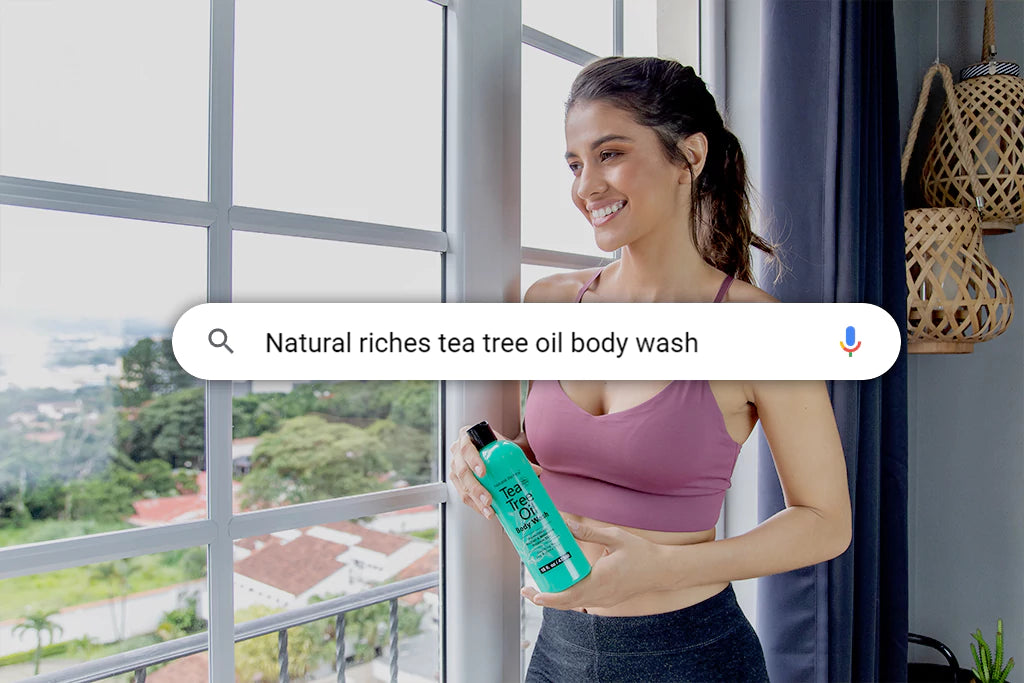 Tea tree oil is an essential oil that has tons of benefits. From fighting bug bites to removing body odor, tea tree oil has proven it's worth and merit over and over again. If you go through cosmetics, you will find various products based on tea tree oils. In this article, we will talk about everything there is to know about natural riches tea tree oil body wash among its other products.
It is believed that Tea tree oil present in the body wash carries anti bacterial anti fungal properties for keeping our body free from bacteria and other harmful micro-organisms. These are microscopic organisms that cannot be seen with your naked eye. They are only visible through a microscope. But they do live in our bodies and can cause much harm to us.
So, we need means that we can fight against these bacteria and harmful agents. Yes, a random ordinary soap can have bubbles and can clean your body from dirt and dust. Those are not the real enemies. It's the bacteria and these infectious agents that can harm your body. This is why trying out our Natural Riches Tea Tree Oil Body Wash could be the ideal solution to protect your body from these harmful substances.  
What is a body wash?
Body wash is a substitute to soap filled with Essential oils and Carrier oils . We use it in showers, It is usually a liquid gel. It has an entirely different manufacturing method than liquid soap or ordinary soap. So, do not confuse it with a bar soap. The richness added to soap or liquid soap is usually low because their structure opts more to bonding than carrying elements in liquid form. But shower gel or body wash opts for something different. If you compare a body wash and soap hands-on, you will see that a soap generates more foam than a body wash. But the body cleaning does not depend on how much foam your soap or body wash is creating. It entirely depends on what substances each one is carrying.  It is very possible that body wash may be have better cleaning properties then a common bar of soap. That's why people prefer them over soaps and even liquid soaps. Because they carry essential oils and carrier oils that replenish and refresh your skin unlike bar of soap that uses sulfates and leave your skin dry.
Tea tree oil benefits for your skin
Some essential oils contain useful natural substances, but they are not fit for cleaning and to be used in bodywashes. They may have great aromatherapy uses and floral smell . But tea tree oil is not like them all. It has natural healing substances in very high amount that helps in many ways. Let's discuss tea tree oil benefits for your skin.
Tea tree oil may be used to fight fungal infections on our skin. It is also helps against bug bites. Bug bites cause inflammation on the skin, and sometimes they may get infected. Tea tree oil has the antifungal properties that can help in killing these infections. Regular use of tea tree oil will help you get rid of these fungus infections. This is only one of the benefits that tea tree oil on your skin.
Tea tree oil body wash
Now that you know why body wash is better than soap. It's time for you to know why you should select Tea Tree oil body wash and not any other bodywash. Tea tree oil is an essential oil. As you know, essential oils are more active than random carrier oils like olive, coconut, jojoba, avocado, etc.; essential oils contain many natural substances that help us in many ways. For example, the main ingredient in tea tree oil is terpinen-4-ol, known as nature's antiseptic. Aborigines the indigenous people of Australia use tea tree excessively to fix wounds ,illness and all other kinds of diseases. Tea Tree plant is a bush that has origins in Australia  But now, by the grace of science, we know what it exactly contains and how it was fixing wounds and ailments. Most essential oil carry healing properties we need to use these properties for good. Tea tree oil body wash can be considered the best among all the body washes out there. The tea tree is a highly active substance in this bodywash It also carries a large number of other natural substances that are all good for your body. Those are Tea tree, Jojoba, Coconut, Rosemary, Olive, Oregano, Peppermint, Aloe Vera and Eucalyptus Oils. Only knowing this is not enough. You need to know the exact benefits that you are getting from tea tree oil body wash. So, let's find out why you should go for this body wash.
Significance of using tea tree oil body wash
Like every other Essential oil raw Tea tree oil is very potent and has to be diluted with Carrier oil before topical application.
Otherwise you risk sensitivity burns. With tea tree oil bodywash you don't need to worry of diluting it. You  can use this bodywash directly without concern of sensitivity since its already diluted with carrier oils .
| | |
| --- | --- |
| Tea tree oil body wash (Key features) | Why choose tea tree oil body wash (effects) |
| Kills bacteria | Tea tree oil is extracted from the leaves of the Melaleuca alternifolia plant, which can only be found in Australia. Originated from Australia. Now, tea tree plants are grown in a variety of places. But the silver lining here is that tea tree contains a high percentage of terpinen-4-ol, which has such capabilities that it can kill bacteria without even breaking a sweat. It was tested in laboratories to see whether it's true or not. Turns out, it is. Pure tea tree oil can instantly kill bacteria, but it's not usable. The best way to deal with bacteria that live in our body is tea tree oil body wash. |
| Masks odor | Tea tree oil body wash has many things mixed with it, including the essence of peppermint and eucalyptus. So, it can easily mask the acute body odor if anyone has issues with their sweat. To understand how it works, you have to understand how body odor generates. Sweat has no smell. It mixes with bacteria and creates what we call body odor. Tea tree oil body wash removes bacteria from the body. Thus, it reduces the chance of having anybody's odor at all. On the plus side, due to the peppermint essence, you can stay minty fresh all the time. |
| Removes fungus | Tea tree oil has antifungal capabilities. It can remove fungus from our body effectively. The fungus is usually the reason behind infections and other bodily problems. Ordinary soap and liquid soap can promise the removal of fungus, but it stops at 99.9%. But tea tree oil body wash can remove fungus with a 100% guarantee. |
These are some of the benefits and advantages you will get if you use tea tree oil body wash.
You can also learn benefits of Tea Tree Oil Shampoo and Conditioner from here.
Safety concerns before using tea tree oil body wash
Tea tree oil has is rich with antifungal, antibacterial, and antiseptic properties It may burn a little when you apply it on wounds. That means tea tree oil is highly active when it comes to usage. This Tea tree oil body wash contains Tea tree, Jojoba, Coconut, Rosemary, Olive, Oregano, Peppermint, Aloe Vera and Eucalyptus Oils. All helps with lessening the burns you get with direct skin application of raw tea tree. 
Allergies
Perform allergy test before using Tea tree oil. Apply a small amount of tea tee oil or bodywash to your under arm and make sure you do not get redness or burning before use. If it itches or burns in any way, refrain from using it. Though people haven't reported any issues regarding the usage of tea tree oil body wash. But still, it's wise to stay cautious if there's even a slight chance for you to face any discomfort.
Open wounds
Body washes are supposed to be used for hygiene and showers. Tea tree oil body wash has a high amount of antiseptic properties . It helps with small wounds and cuts and starts working after first application.. If you have any small wounds or cut on your body that you got during sports or outdoor activity taking a showers with Tea tree bodywash may help you heal faster.
NO Redness or Swelling up that you may get with raw TEA TREE Oil.
The Bodywash will help revitalize the skin provide moisturizer help you skin glow excellent for sensitive skin because of abundance of moisturizing agents like Jojoba, Coconut and Olive oils. No burning that you get from raw Tea tree. Get the benefit without the burning. Also, these precautions only help the body wash to work better. You can apply them just to be safe. 
Best places to apply tea tree oil body wash
Here are the best uses of tea tree oil body wash. There are a lot of areas where we use daily soap. We prefer cleaning some parts with more then others. There are certain parts of human body that you would want top apply Tea tree body wash because of its advantages.
Underarms
Underarms are the place where we sweat the most. Also, it's the place where bacteria and fungus prefer to reside because of dampness and warmness a lethal combo for bacteria to breed. Reason for having that foul smell it is the bacteria that causes the smell. Sweat carries body fat, toxins, waste particles, etc. So, underarms is a must place to clean with tea tree oil body wash. It will kill all the foul smell and the bacteria. Replace it with the pleasant smell of the bodywash.
Neck
Your neck is the closest place to your nose and mouth . If any bacteria or harmful elements resides there, it might travel through air and reach your face, and then might infect your body if it enters your lungs. So, to fight off those bacteria and harmful agents living on your neck, you should always remember to clean it with tea tree oil body wash.
Hands
Hands are  the most used parts of our body. We touch things, We touch others, We grab, We hold. We come in contact with other things using our hands. Anything we touch could contain harmful elements on them. That's why it's advised to wash hands  frequently. But as soaps don't have as much antibacterial, antifungal, and antiseptic properties, prefer to use tea tree oil body wash and clean your hands from palm to elbow with care. Also cleaning your hands excessively with soap will dry them out since soap also washes away the body oils. Tea tree oil bodywash carries moisturizing oils that will hydrate your skin and bring back the lost moisturizer if you wash your hands multiple times a day. It will be necessary. Discussed here were the must-clean parts while using tea tree oil body wash. Rest is up to you. 
The best tea tree oil body wash
By now you should be convinced that Tea Tree Bodywash is better then a bar of soap or just a simple bodywash with tea tree. But the real question still stays  which one to of the tea tree boisywash to use ? There are plenty of tea tree oil body wash available both online and in stores . How do you select the best one. We will help you with making this decision by selecting all Natural tea tree bodywash with 100 % pure tea tree oil offered by Natural Riches Tea Tree Bodywash Please Continue reading further it will help you understand why you should choose Natural Riches Tea Tree Oil Body Wash.
Why should you choose natural riches tea tree oil body wash?
Natural Riches offers the best Tea tree oil bodywash using tea tree that is 100 % pure and imported from Australia. It also contains other pure natural essential oils and carrier oils and Aloe Vera. It helps nourish your skin back from dryness. It doesn't contain harmful chemical and is created by using only Natural substances. That is why it is safe to use it doesn't carry any harmful chemicals which can have bad after effects.
Peppermint
Rosemary
Aloe vera
Eucalyptus Oils
Coconut oil
Jojoba
Olive oil and
Oregano.
All of these substances and carrier oils carry healing benefits. Along with the Tea tree. Natural riches tea tree oil body wash is created using strict quality control standards. It is manufactured in USA We import all the ingredients from abroad and then mix them here in US using strict quality control guide lines. To be bottled and then distributed. It is created using our custom formula and blending technique.
Natural riches tea tree oil body wash benefits
You have already read about the benefits of tea tree oil. Now get ready to read about benefits of Natural Riches tea tree oil Body wash. What it does better then others.
Skin nourishment
This bodywash contains  coconut oil, jojoba, and olive oil  which helps with nourishing and moisturizing back your dry skin after showers or hand washes. These carrier oils individually are already used for skin moisturization, we use them in the bodywash for the same purpose after cleaning to moisturize our skin. Their presence in the bodywash not only protects your skin from bacteria, fungus, dirt, etc. It enables this body wash to nourish your skin back to health.
Removes itchiness and jock itch in no time
According to real users' reviews, this body wash have been reported to relieve the users suffering from regular jock itch in less than 2 weeks. Its  amazing on how quickly it can produce results.
Helps fight acne and eczema
Acne and eczema are the two most common problems of our skin. No matter how clean you keep your skin , these can occur due to skin dryness and oily skin. The Natural Riches tea tree oil body wash can fight acne and eczema both and with regular use, you may be able to prevent them from returning.
Pros:
        All natural product
        Quick results
        Fights off acne, eczema, and other skin problems
        Nourishes our skin
        Has antiseptic, antifungal, and antibacterial abilities
        Removes body odor
Cons:
        check for allergic reaction
        Is not approved by FDA.
Frequently asked questions
Question 1. What is tea tree body wash suitable for?
Answer: Its good for many skin conditions. But if I am to choose only one reason, the most crucial would be the antibacterial properties. Bacteria's that populate our skin can harm you in many way. No other product in the market can fight bacteria as any tea tree oil body wash can.
Question 2. Can you use tea tree oil body wash on your private areas?
Answer: Yes, you can. Study shows that tea tree oil body wash can help fight bacterial infections on your private area. It is one of the most common problems women can face. You can fight this common problem using tea tree oil body wash.
Question 3. Does Tea Tree Body Wash help with acne?
Answer: Bacteria and Dirt are mostly responsible for acne. The Antiseptic, Anti-fungal properties of tea tree oil will enable this bodywash to fight bacteria, and it will wash the dirt off our skin. So, yes, it will helps with acne.
Final words
We have discussed Natural riches tea tree oil body wash in quite detail . So, please tryout our all natural Tea tree body wash from Natural riches you couldn't go wrong with this product.  We stand behind our product and offer money back guarantee. If you still have doubts, please read the reviews from real life users who have previously used our products and found it satisfactory and given us Majority five star rating on thousands of reviews. You can order this product risk free right away we will refund you your  amount if you don't like it. If you have any further questions to ask about the product or have used this product before. Please leave us a comment on your experience or a question. We will appreciate it a lot and will get back to you surely in 24 to 48  hours with an answer.
Thanks for staying with us till the end of this article.
Leave a Reply